Bets Without Deposit

Rules of Poker

Strategy Articles

Poker Gadgets


$ 10 free for sports betting on PartyBets

The Bankrollmob gives you $ 10 to sport bets on PartyBets!
The Bankrollmob is a community of bonuses without deposit which has 520.810 members and already gave $ 378.268 in bonus without deposit since 2007! Bonuses include mixed poker, casino and lotto but in this case you may or may not use the bonus from poker to sports betting, although I must warn you that BankrollMob is expressly against this use of the bonuses and considers it abusive and if they do so it may result in suspension of your account at Party Gaming!
The PartyBets is an online bookmaker that was launched in 2006 and one of the fastest growing on the Internet, with its focus on operating ease of use, reliability, safety and enjoyment as the most important aspect. When it comes to betting offers the PartyBets provides a lot of opportunities for punters with a wide selection of sports. If you are familiar with Bwin and Unibet is worth mentioning that they use the same platform for probabilities as well as the offers are the same, but there are some differences in terms of languages and currencies supported.

How to get $ 10 free for sports betting on PartyBets

To get this bonus just follow this guide explanatory and in 17 steps you will get your bonus, only after receiving the poker bonus the money can then transfer to your balance at PartyBets!
1.Click here to go to Bankrollmob web page.
2.When you´re in Bankrollmob page click in "
register

" as you see in the image.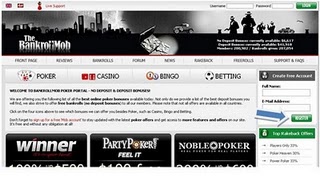 3.Now fill the form, put the number code and click on "
continue

".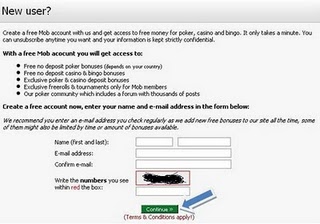 4.Fill the rest of your data in this new page..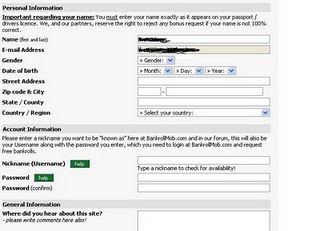 5.Now you will have to make I.D. verification trought a phone call, if you want to ask for the Titan Bonus you will also have to make I.D. verification trough driver's licence, to the rest of the bonus the phone verification it´s enough.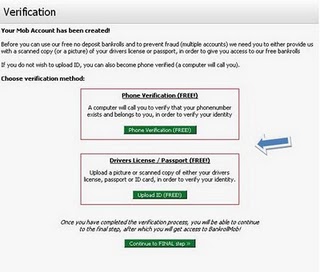 6.Insert your number and then click in "
proceed

" as you see in the image. When the phone rings answer it, there will be an automated message telling you a number code, write it down, the number will be repeated 2 times!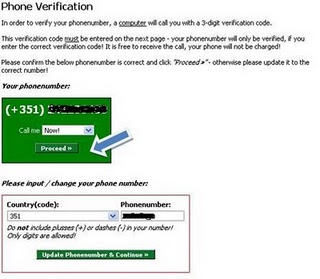 7.After that click on "
continue to final step"

.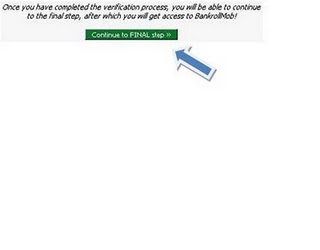 8.Now go to your email account, there you will have an email from bankrollmob open it and click on the confirmation link!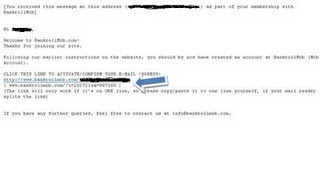 9.After this 8 steps you will have to wait 24 hours to your account activation, then you can go to step 10 and ask for your bonus, after you receive an email like this you´re good to go!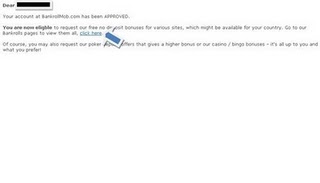 10.Now in the Bankrollmob page make login and then click in "
Bankrolls

".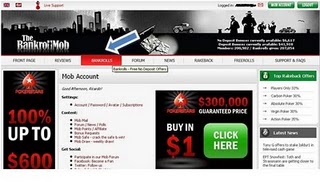 11.In the "
Bankroll Filter

" click on Bonus:"

No deposit

" and Site:"

Poker

", and in the sixth on the list where it says Party Poker click on "

info

" as you see in the image. Here you can choose any other bonus or all of them if you want!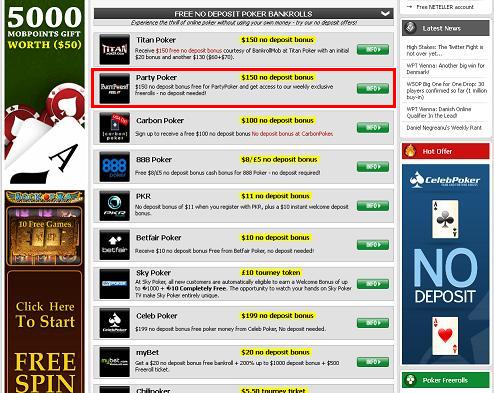 12.After that click in "
Request

".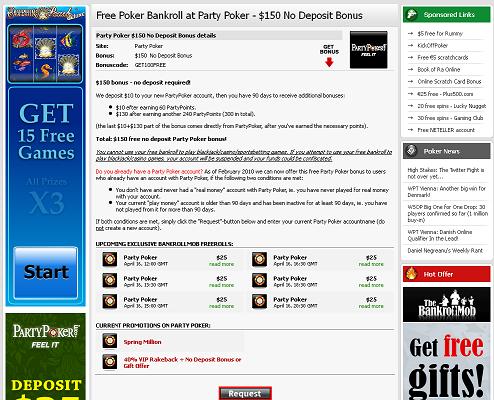 13.Then on "
Download

", and keep this page open as you'll have to come back here later, now you will go to the page of Party Poker and when you are there click on "

Download

" again and proceed as follows.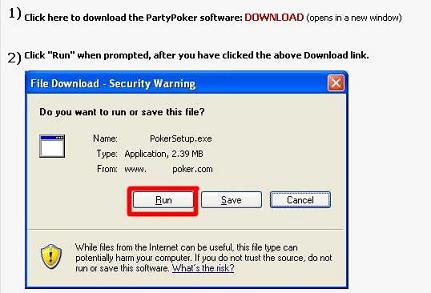 14.Now click on "
Create New PartyAccount

" .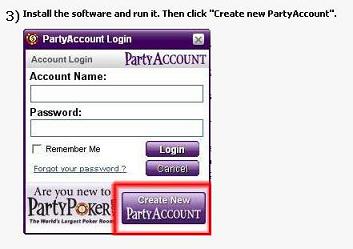 15. When registering you must use the bonus code "
GET100FREE

" (without entering this code you will not have access to the bonus).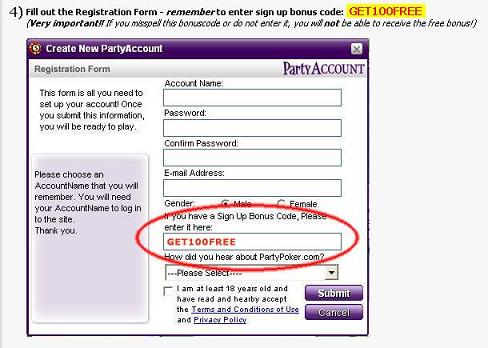 16. Fill in your details in the cashier and remember that it is not necessary to make any deposit.

17. Return to Bankrollmob page and enter your username in the space provided and then click on "
REQUEST BONUS

".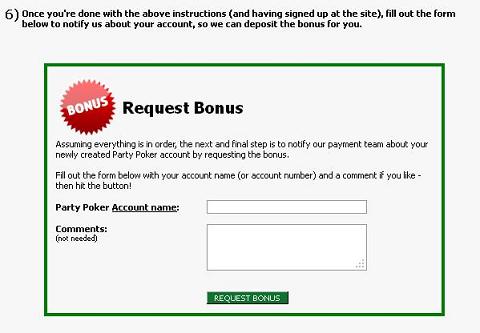 If you have any doubt send an email in English, Portuguese or Spanish to suporte@pokersemdeposito.com .